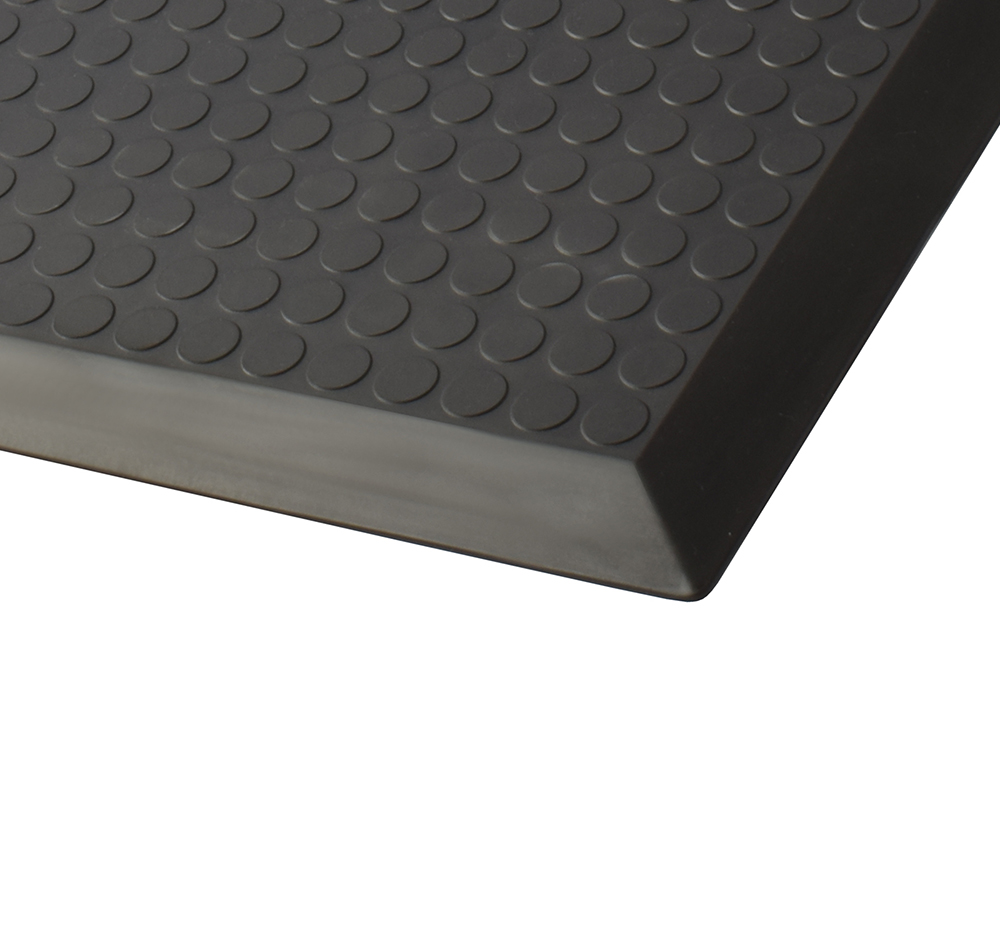 RubDisc – Industrial Workplace Mat
RubDisc is the high-end solution for allround industrial heavy duty areas.
RubDisc is made of a 100% virgin nitrile rubber compound. Extremely durable rubber and resistant to most industrial oils, chemicals and fluids.
Elastic "wavy" underside construction for excellent stability and standing comfort – easy to clean.
Ø16 mm disc surface design – optimum for industrial areas with walking and turning movements like assembly lines or pick-pack workstations. Freedom of movement. Also approved for food industry and general hygenic applications according to DGUV Test – "Hygenic Test" GS-NV 6:2019/08. 
Types
Black nitrile rubber – oil, chemical and grease proof for industrial applications.
Black nitrile rubber – fireretadent and ESD combined.
Optional light grey EPDM rubber – water, animal fats, high temperature proof, antibacterial for food industry and hygenic areas.
Shapes
Any size and any shape possible. – Just measure up!
Guarantee – 3 years
Please request a sample and test resistance on site if
application is heavily contaminated.
More Info
Elastic, strong and durable virgin nitrile rubber.
Oil proof 100% nitrile rubber compound.
Molded beveled edges on all sides.
High standing comfort – ø16 mm DISC
Freedom of movements / twist-turns
Easy access and transportation with carts etc.
Easy to clean "wavy" underside.
More Info
Thickness: 12 mm 




Weight: 7 kg/m2




Colour: Black




Surface:  Disc ø16 mm coin / easy access 




Freedom of movement – low friction

Underside: Waves – easy to clean




Edges: Molded bevelled on all sides

Optional in high grade nitrile ESD  and fireretardent compound.
More Info
Examples standard sizes:

66 x 96 cm, 66 x 141 cm, 66 x 186 cm, 66 x 231 cm,
66 x 276cm, 66 x 321 cm, 66 x 366 cm,
96 x 66 cm, 96 x 96 cm, 96 x 126 cm, 96 x 156 cm,
96 x 186 cm, 96 x 186 cm, 96 x 246 cm, 96 x 306 cm