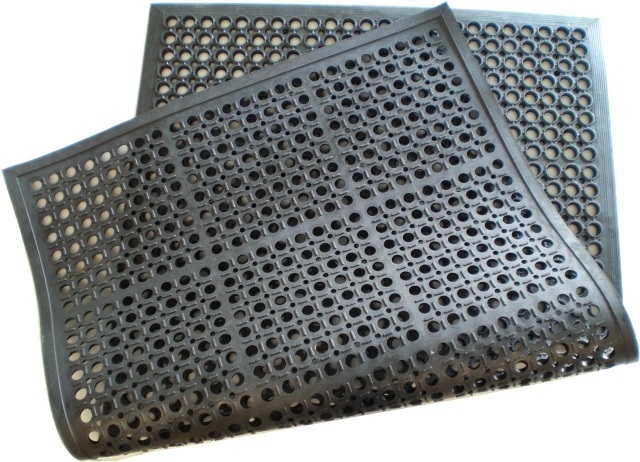 Drain
Drain is a workplace mat for poluted and wet areas with slippery floors like in metalworking and food industry.
A strong, solid and oil resistant nitrile rubber mat. Made of nitrile rubber compound.
With raised anti-slip profiled holes. Optimum for drainage of oils and fluids. Holes to collect metal swarfs and debris.
With 5 cm wide molded beveled edges for easy access for carts.
Drain is anti-slip and has a positive anti-fatigue effect on employees with standing workpositions. For all employees with standing workpositions in metalworking and food industries with slippery, oily, wet and poluted floors. Resistant to most industrial oils, animal fats, water and grease.
Types
Red nitrile rubber resistant to oils, water, grease, high temperature in eg. metal- and foodindustry.
Optional in black sbr rubber for general industrial purposes.
Shapes
Any size and any shape possible. – Just measure up!
Standard sizes: 91×152 cm, 91×297 cm, 91×596 cm
Guarantee – 3 years
More Info
Holes for optimum drainage.
Oil and grease resistant. Red nitrile rubber compound.
Molded 5 cm beveled edges on all sides.
Good standing comfort.
Anti-slip, durable and strong.
More Info
Thickness: 14 mm
Weight: 7,5 kg/m2
Colour: Red (nitrile rubber), Black (sbr rubber)
Surface: Anti-slip raised ring
Drainage: Ø25 mm holes
More Info