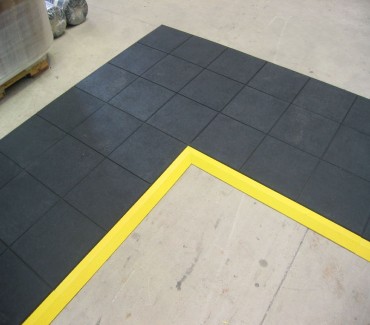 RubTile
An extremely heavy, strong, solid and oil resistant nitrile rubber mat. Made of a 100% nitrile rubber compound. Flexible installation for a smaller area or a wall-to-wall solution. RubTile Solid for workpositions with movements and areas with work traffic, carts etc.
RubTile Holes for work environments where drainage of oils, chemicals and fluids is needed. Holes are also optimum to collect metal swarfs and debris in poluted areas. Attachable with 6 cm wide safety ramps for easy access for material carts. RubTile has a positive anti-fatigue effect on employees with standing and moving workpositions. For all employees with standing workpositions in industrial areas with cold, slippery, oily, wet and poluted floors. Resistant to most industrial oils, fluids, welding sparks etc.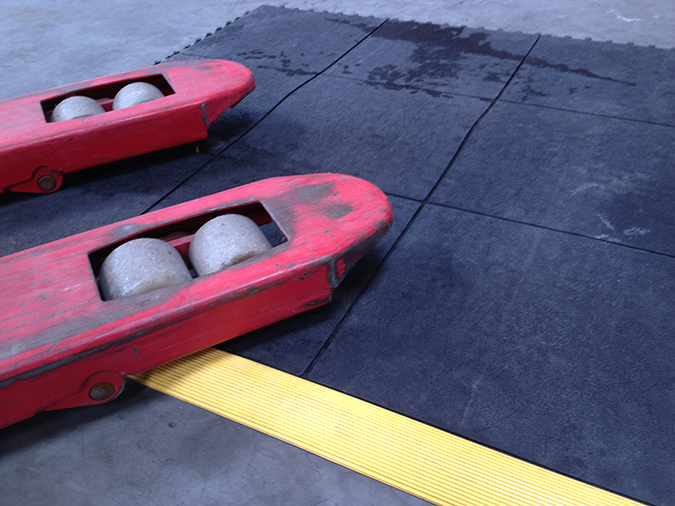 More Info
Black nitrile rubber resistant to most oils and fluids in industrial areas
Optional in NBR/nitrile rubber black – combined ESD + B1 compound
Shapes: 91×91 cm interlocking tiles.
On-site customization / Easy to relocate
Attachable black or yellow ramps
More Info
Interlocking rubber tiles with yellow or black ramps




On-site installation/customization.




RubTile Solid for all industrial areas where a closed surface is optimum.




RubTile Holes for areas with spilling of fluids and where drainage is needed.

Oil resistant. 100% nitrile rubber compound.




Attachable – black or yellow ramps




Good standing comfort.




Durable, solid and strong.
More Info
Thickness: 19 mm




Weight: 10 kg/m2




Colour: Black




Ramps: 6 cm widths – yellow or black




Surface: Solid pebbled or with holes
More Info